Technogin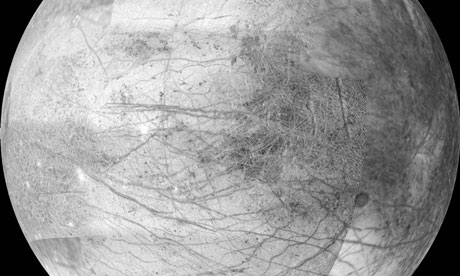 Nasa scientists have drawn up plans for a mission that could look for life on Europa, a moon of Jupiter that is covered in vast oceans of water under a thick layer of ice.
The Europa Clipper would be the first dedicated mission to the waterworld moon, if it gets approval for funding from Nasa. The project is set to cost $2bn.
"On Earth, everywhere where there's liquid water, we find life," said Robert Pappalardo, a senior research scientist at Nasa's jet propulsion laboratory in California, who led the design of the Europa Clipper.
"The search for life in our solar system somewhat equates to the search for liquid water. When we ask the question where are the water worlds, we have to look to the outer solar system because there are oceans beneath the icy shells of the moons."
Jupiter's biggest moons such as Ganymede, Callisto and Europa are…
View original post 516 more words